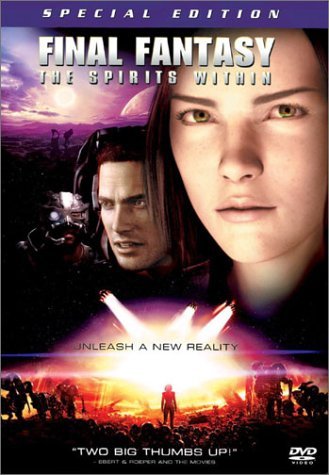 Welcome to the 3rd edition of Tuesday Couch Potatoes, where we post about a movie each week. Today's theme is 3D Animated Science-Fiction Movies. Let's see what our other participants have cooked up this week!

I have always been a lover of sci-fi movies. And when 3D animated films became popular, I have always been one of those first in line to see it, no matter what genre it is. The 2001 computer animated sci-fi film from Director Hironobu Sakaguchi

Final Fantasy: The Spirits Within

is one of favorites. Although it was a box office bomb, I still liked the plot, the characters, the setting. It is based on the popular RPG game, Final Fantasy but lacks most of the characters and aspects in the game, making it distinct and different.

Set on an alien-infested Earth in the year 2065, the story follows scientists Aki Ross

and Doctor Sid in their efforts to free Earth from a mysterious and deadly alien race known as the Phantoms, which has driven surviving humanity into "barrier cities". They must compete against General Hein, who wishes to attack the aliens with the Zeus space cannon to end the conflict.

-Source-

What I love about the film was the photorealistic 3d rendering of the characters. I also love the character of Aki, who was infected by a Phantom in one of their encounters with them but succesfully trapping it inside her. She and Dr. Sid were steadfast in their search for the eight spirits that will save the Earth from the Phantoms. This film is a story of self-sacrifice, of good conquering evil, and it is also has a pro-environment attitude.


Here's a theatrical trailer of the movie:
Next week, we will feature a Sandra Bullock movie. Hope to see you again next week!
Don't forget to add your linky in the McLinky below! Thanks for joining!