Oh no! I committed a very big mistake! I thought that I already published my TCP post yesterday but realized just this morning that I still haven't! Oh dear, I am so very awfully sorry to my Couchers... There is still of course a TCP and this week's theme: Living the American Dream Movies. So I hope you haven't given up on my just yet!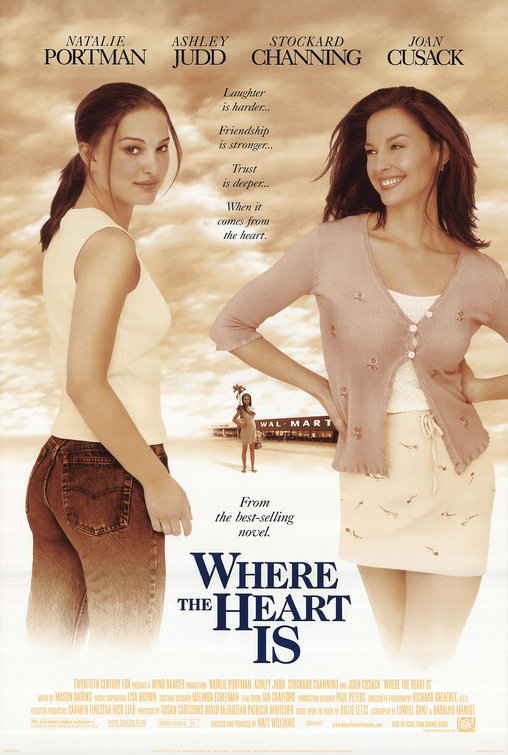 My pick for this week is the movie Where The Heart Is starring Natalie Portman and Ashley Judd. Although this movie is not really centrally focused on the American Dream, I can still say that the main character's American Dream to live a happy, successful life with her "eccentric" family and the people she loves became a reality in the end.
Here's a synopsis of the movie:
Novalee Nation, 17 and very pregnant, has never been part of a real home. The closest thing to family for the hard-luck teen is her selfish, would-be musician boyfriend, Willy Jack, with whom she's traveling from Tennessee to California in a rust bucket that used to be a Plymouth. A bathroom stop en route, at an Oklahoma Wal-Mart, changes Novalee's life forever. For when she leaves the store, she discovers that Willy Jack and the Plymouth are gone. Only her Polaroid camera remains in the parking space. Alone and broke, Novalee surreptitiously moves into the vast store, borrowing food and supplies from its shelves. When she gives birth on the floor - and her hideaway is revealed - Novalee and her "Wal-Mart Baby" become instant celebrities. More importantly, over the next few years, Novalee finally becomes part of an unconventional, makeshift family comprised of her wonderfully eccentric new friends. Now, with the family she always wanted, Novalee is transformed from a homeless teen to a successful and strong woman. She has finally found a home in this small town where fate has dropped her.
Written by Hyacinth Tachi
Got an American Dream Movie in mind? Come and share it with us here on Tuesday Couch Potatoes and enter your TCP link in the linky below:
Thank you for joining us this week Couchers! Next week's theme will be Life's Gastronomic Pleasures. I hope to see you all once again next week. Promise, I will be on time. I will already have had an internet connection at home by then. :D