I admire people who support worthy causes. I love them more when they promote the products sold by these charities to support their objectives. That is why I am joining
Verabear's
Got Heart 2010 Planner Giveaway
.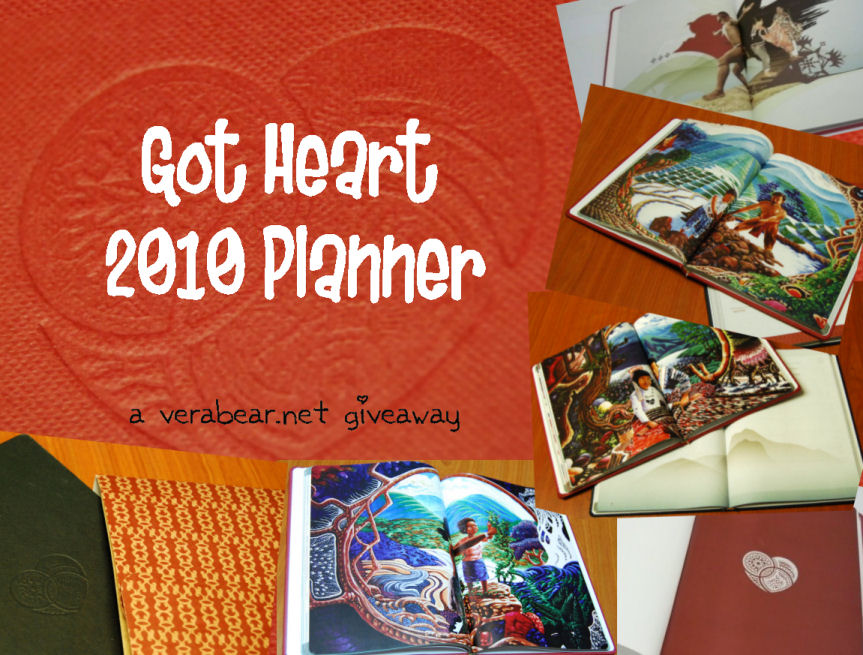 The Planners themselves are colorful and unique, and to quote:
Featuring at least twelve indigenous communities in the Philippines, the paintings of an Obo Manobo, Retchor "Ettok" Umpan, and passages written by young indigenous peoples themselves, the GOT HEART 2010 PLANNER is both interactive and youthful with its numerous activities and amazing information. The Planner also has different activities that will allow you to discover more about our IPs in fun and light ways. Aside from promoting love of culture, the GOT HEART PLANNER proceeds will help fund the foundation's projects for the indigenous peoples, specially a T'boli School in Cotabato.
Want to get a chance to win one? Then join Verabear's giveaway. It is open to all who have a Philippine address. The contest will end on Christmas, December 25. So hurry!